I will be making my annual trip to pasha lake with Dad. It should be awesome and I now have some expierience! We will be fishing both pike and walleye lakes but mainly pike. Last yer my big fish was a 35in. pike! Yeah very fun!!!! I can't wait to go again and I'll take lots of pics and do some vids! Wish me luck!

OhioFisher

Administrator






i am in sault ste marie now on my psp we found a cool pond with trout i got 8 one nice one report nxt mon

OhioFisher

Administrator






Nice keep us posted don't forget to smile for the camera

Tod

Outdoorsman 4






Back in the soo the fishing was awesome I`ll have a report soon and yes i smiled

OhioFisher

Administrator







Guest

Guest





Ok after my first attempt of writing my report I will now embark on the second attempt!
On the Friday we left Gas we found the cheapest we could at 3.82 filled up and headed on our way. Crossed the Michigan border. Passed Cabelas in Dundee, Frankenmuth, and lots of small lakes. Then we finally after 6hrs. of driving made it to Makinac Bridge! What a sight-That day it was very foggy a bit scary but very fun! We stopped at the vistors center across the strip and did some walking around very cool! After a couple of hours driving past Makinac we made it to Sault Ste. Marie. Here we would stop for the night and I would stumble onto a few fishing spots. The first spot was by a dam where a guy was fishing from the shore for atlantic salmon. He got one it was nice probably about 10lbs. we got a Hungry Howies pizza-sat around and no one else got any more fish. After this we drove aaround and I saw a sign that said "fishing for kids 16 and under only" I thought ok heres my chance and it was I got 8 trout in a 30 min. span! One being good sized even! We also explored the soo locks!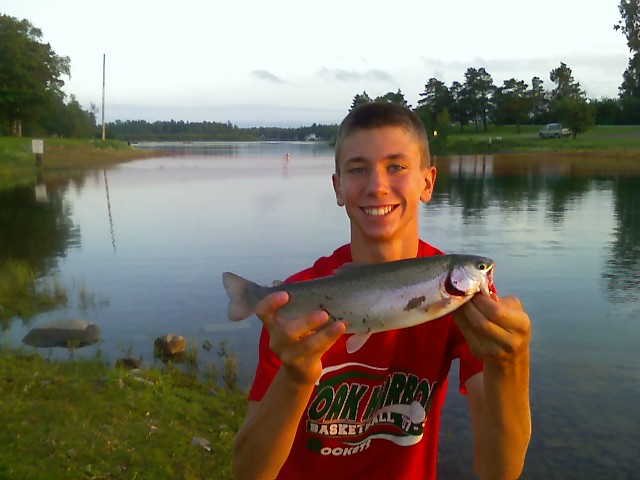 From here we woke up early got across to border on the international bridge with ease and headed our way to the Canadian wilderness. We went past many cool areas lots of lake superior watch the scenery video. It has lots of cool stuff on it! Here are some pics from the way up.
then we got into a little animal like surroundings. First we came upon some roadkill moose 2 to be exact-one being a bull! After this we finally got to see soemething a lttle more "Alive." This was a black bear, right on the berm of the road! Very cool how he didn't care much of us being there and we got to watch him. Got some good pictures from the too. The video also has some of this...
After about 9hrs. or driving we finally made it to pash lake! After being greeted by Chad with a "how the hell are ya" we knew this would be a good week! We got our boat and motor which can be rented at an affordable price and headed on our first mini adventure through some rapids to a nearby lake. We knew the good spots in this lake and we got some good fish there probably about 30 or so... Before I go on I think I should introduce to you the regulations of this zone (6) There is a slot limit on northern pike you cannot keep fish in between 27.5 and 35.5in. so a 27in. pike is a "good eater" I got 2 here at this lake and a 32in. slot fish! dad also got a nice 30in. pike!
First of the year
The next day we went to a lake that is VERY hard to get to! We like it for big fish in big numbers! After going through hell and high water we finally made it! We fished this lake 2 days and to tell you how long it takes to get there leaving at 8:30 we didn't start fishing until 1 or 2! We threw spoons- 1oz. daredevils and nailed about 250 pike in a 2 day span! I got the biggest-a 34in. which in this zone (7) we could keep it
This was a great lake here are some pics.
As you know being the adventure type we had to take another on our 3rd. day. This time for walleyes. We went to a lake that we knew from last year was LOADED with eyes. After working for awhile to find them we did-in the current! At the first small inlet stream we got about 30 eyes in 30 mins! With minnows and jigs... Then moved onto the second and main inlet stream... Here we nailed I mean nailed walleyes on every cast for over and hour! We had an awesome shore lunch and caught most of the eyes from shore. Here we didn't even need minnows! Just jig and tail. We got many bug bites though because we had to walk through swamp to get there but it was well worth it. Check out the video for this one! Dad got the biggest though 25in. (Canadian Trophy) and a 22in. Pics-
After being a little worn out from the first two trips we decided to take an "easier" route and just head up river from the cabins to a few good spots we knew about 3 lakes up (The cabins are loacted on a set of chain lakes up can go up or down) Anyways got to this lake hit a weed bed (Thats where we get 90% of our pike) and wasn't long we were hitting pike on every other cast nice slot fish too! Check the vids for this one too-wish I could have gotten more video though... I even caught the same fish from last year it was a 34in. "hunchback" (You'll see from the pics) Same lure-same spot! Dad and I both got many slot fish and kept 6 to take home. Pics
Another day for an adventure being rested and relaxed this time for more pike this lake had not been fished in 10+ years and was very hard to get too! With logs all over the trail... Luckily canadian soil up there is more gravel than anything else or we would have been stuck! We got there at about 2 o'clock and headed to the one fishable spot in this decently sized lake. It wasn't long until we started hitting them good and man it was awesome fish after fish... No big ones-then they slowed dwn-we were causually drifting when Dad and I hit a double! I knew I had a big one from the start! It was staying down and when I got him to the boat man he was HUGE! Finally after Dad screwed around with his fish not believeing I had a big one, got the net out and realized its size! He got a good net on him after a GREAT fight. The fish would measure 38/1/2in. even though the video says 37 (Heres the story-the ruler on the side of the boat only went to 36in.-My fish went over so I figured it was 37... when we took a ape measure to it later it was 38/1/2in!) We got a few small ones-good video-nice pics
Our Last Day... I was in the mood for walleye so went went to the lake right above the first walleye lake. Tough trail to get there but not terrible. Had to haul all of our geear to the nice boat waiting for us to get some eyes! We went straight to a spot chad (Pasha Lake Owner) put us on! Bam we were on the eyes-with minnows this time-we also got many pike. I got the biggest eye at 22in. It was a great time! We fished weeds hump and trees all poduced fish! For all of the lakes!
In the end-I had my best week of fishing ever! I loved the cabins the area the scenery the animals the weather the sky the fishing most of all! It was a great trip and we will be back again next year for more fishing and fun-stay tuned with my vids!
Scenery From The Trip-Look Below for more video-

OhioFisher

Administrator







OhioFisher

Administrator







OhioFisher

Administrator







OhioFisher

Administrator








Similar topics
---
Permissions in this forum:
You
cannot
reply to topics in this forum