kim and the boys and i got out yesterday morning to a private pond from 12-3:30. fished redworms 5 feet deep on jigs and slip bobber. elliott got the only bluegill, 8 incher, kim nailed a bass on a spinnerbait which i couldn't believe this early in the year, and when the sun came out we beat up a few bass on bobber and redworm. nice to be out in just sweatshirts, thoug it was a little windy, we had a good time. elliott would throw out each time and tell us he was in the best spot. we would tell him great cast and he would thank us each time

. wyatt is more of a short time fisherman, and was happy to explore the rocks for bugs and collect seeds in a bottle from some tree, after 20 minutes or so of fishing. on the other hand i had to drag kim from the water at 3:30 and promise pizza so she wouldnt have to cook.

. heres our catch; last of the bass we'll be keeping till next winter, but they were a blast to land.....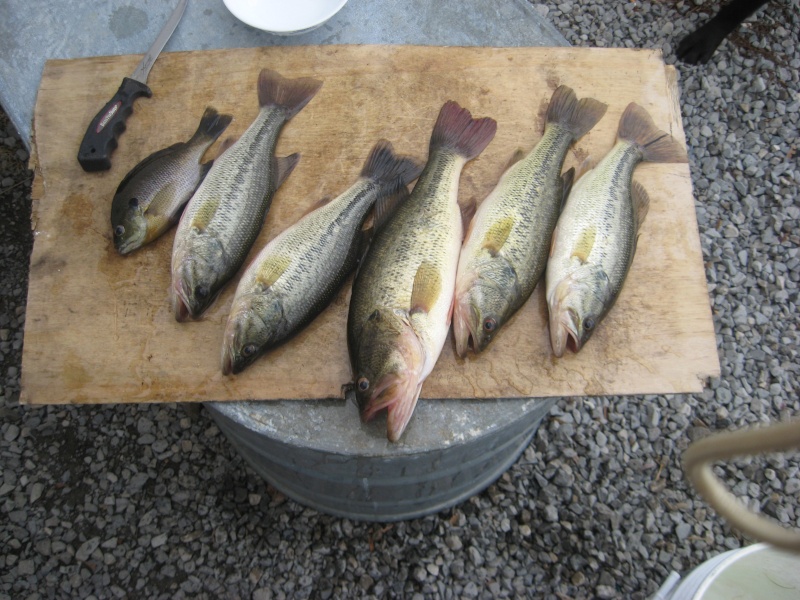 bugeyedjig

Outdoorsman 5







sounds like a fun day with the family for sure!
Always enjoy the pics!!!
How big was that middle bass?
_________________
CYA On The Water,
Jonny
"Fishing and Fun"

OhioFisher

Administrator






right around 2 pounds.....didn't weigh it

bugeyedjig

Outdoorsman 5






great pics and enjoyable time with family, anything better.

saugeye1

Administrator






It's so nice to be able to share what we do with our kids, my daughter will be old enough this year to know what's going on when we're fishing and she's always interested in my fishing stuff when I have it out... she loves minnows.... can't wait to take er out this year.
Nice report, great pic!

good fishin'

ratherbe

ratherbefishing

Team






i dont care what people do but i do get pretty upset when they keep bass...like not 1 or 2 hear and there when tehy keep all the ones they catch it really does get me mad when people dont throw atleast some stuff back.
Last edited by bugeyedjig on Thu Mar 26, 2009 8:04 pm; edited 1 time in total (Reason for editing : swearing)

BrendanK

Outdoorsman 1






he's well within his rights on his size and bag limit, around here with the economy the way it is some people need to keep the fish they catch. i personally never ate a bass but do not have a problem with it as long as they don't break the law, which in bugeyes posititon he did not break any laws.

saugeye1

Administrator






I believe it was stated they fished a private pond. So daily bag limits would not apply. Each body of water has a harvested amount that won't affect the fishery. Long as they aren't keeping too many, it shouldn't upset the balance of the pond. Basic Pond Management and Raising Trophy Bass by Bob Lusk are good books to read for pond owners.

Bigbass101

Outdoorsman 1








Similar topics
---
Permissions in this forum:
You
cannot
reply to topics in this forum