alright now, cobb lake was known as the bluffton national quarry up until last year when they renamed it for a guy who was in our sportsmen club his whole life. he passed away last spring and in his will he left money to the club to honor all world war 2 vets somehow, so they renamed the quarry to his name "cobb" and put up a sign with all ww2 vets name on it from bluffton. this quarry is our stomping ground and most of our posts thru the year will probably come from here. anyways rain started today before i could whip off to mccomb so i changed up and went to cobb. this place is deep and takes forever to warm up and in our log books we have never caught a fish here until after the 2nd week of april. i grabbed some waxworms and a dozen minnows out of our tank and headed off. first cast with the minnow rig i didn't like so i reeled in and cast down the bank under a over hanging tree hoping for some crappie, but not real high hopes. set the rod down and happened to glance over at the bobber and it was going down. i set the hook and the little ultralight doubled over and the reel screamed. i caught a green glimpse of it and i thought .huge walleye, got it to the bank and landed a 4 pound bass. woohoo! no one with me so i didn't get pictures, but released it instead of keeping. probably a big female. so i poke around a little more and nothing so i moved to the other end on some sunken brush. right off the bat, crappie, then another , lost then another lost and another lost and another landed and another lost. ended up with 3 to bring home and 5 escapees. lets blame all the lost fish on my nerves after the big bass, it'll make me feel better. kim is excited since the crappie are hitting this early. we'll be there all week and give reports. here is a picture of the crappies, and a picture of a drawing of the lake after a ton of fishing and cameraing underwater.

bugeyedjig

Outdoorsman 5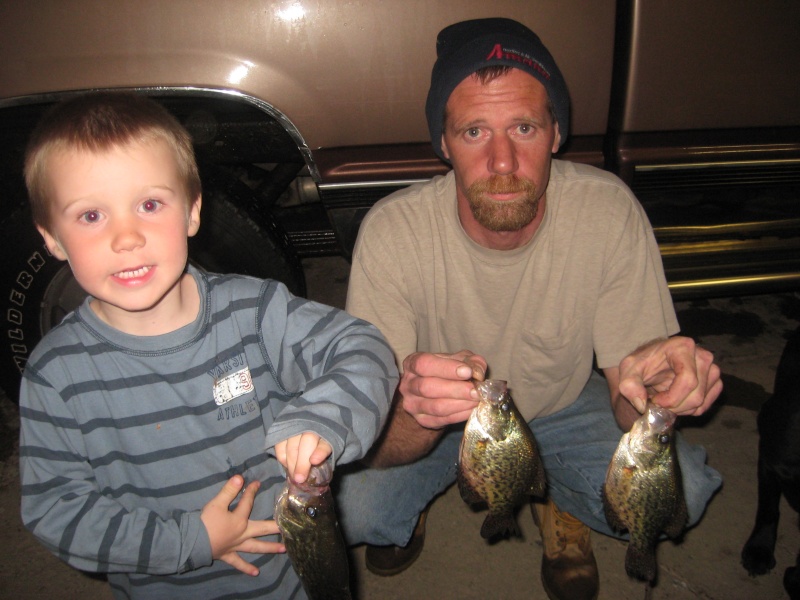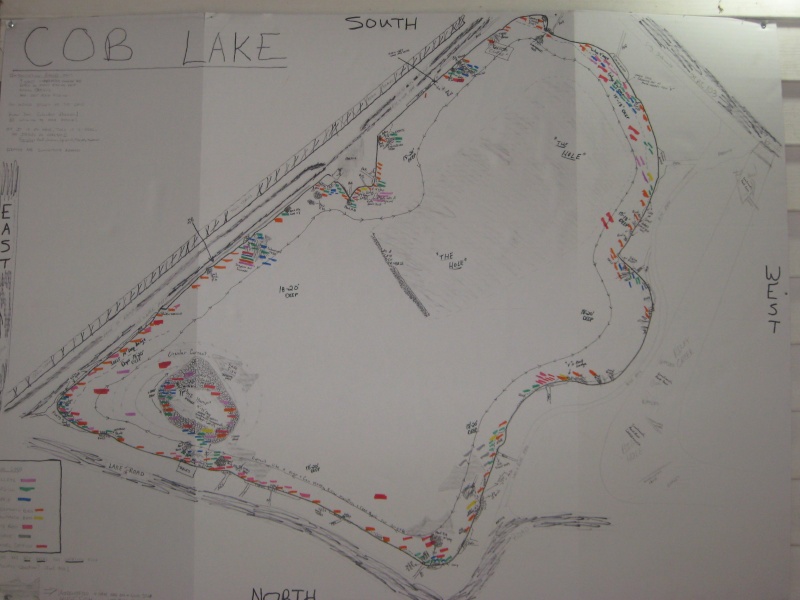 we have spent tons of time on this quarry, and know it better than most. when we had the bait shop the people around would come in and look at our map to decide where to fish for the day,that was pretty cool. it has striper, smallmouth, largemouth, channel cats, bluegills, crappie's that'll blow your mind, perch, walleye, and carp. we've seen catfish 4 feet long on the underwtaer camera, and bass that go probably 15 pounds, carp long as my leg, and have sat in schools of walleye with the camera on and plucked 1 after another from the school watching it all on the screen. it's a heck of a place, but hard to learn to fish.if you look closely at the map you will see diagrams of big fish shaded with pencil. these are fish we have hooked and never seen. they either broke off or pulled loose or 1 time i had one hooked that was running line off my reel, and i just kept adjusting drag up until finally ran all the line off.! monsters!!!!!!!!!!! could be.
Last edited by bugeyedjig on Sun Apr 05, 2009 8:30 pm; edited 1 time in total (Reason for editing : add to)

bugeyedjig

Outdoorsman 5






great catch on the 4lb er, nice crappies also, sounds like u got one heck of a spot to fish.

saugeye1

Administrator






Thats a sweet map!
You really have that placed mapped out and know alot about it, I have a good feeling about it for you fishing it this year

_________________
CYA On The Water,
Jonny
"Fishing and Fun"

OhioFisher

Administrator







bugeyedjig

Outdoorsman 5







kmjschulz

Outdoorsman 2






man you are the crappie king!!!!! Im so busy with school im not going to be able to get out till the weekend.

kprice5

Outdoorsman 4






defin nice slabs, beat the skunk on a crappy day, way to go

saugeye1

Administrator






That's a post! Map is outstanding, and the story an fish are great! Good job getting out and including the kids. That's what it's all about man.

Have a good one

ratherbe

ratherbefishing

Team






Big fish, as alwayss

_________________
CYA On The Water,
Jonny
"Fishing and Fun"

OhioFisher

Administrator







---
Permissions in this forum:
You
cannot
reply to topics in this forum