well we got out today after taxes even though it was raining. even took elliott and his new truck but he was wearing snow suit to stay warm. we hit teddy bear about noon, and it was raining then misting, and windy out of the north. we set up in our usual brush pile about 3 feet deep, but nothing and the wind was pounding us in the face. so we switched sides. we fished a little bit but still no luck. i saw a couple of splashes out near the middle. they weren't jumping out, but the water would flip up into the air. i remembered a trip with my brother in law when that happened and he said crappie! they always hit the surface, but they won't come thru just the tail smacks out a little bit throwing a little water. so i reeled in and changed my depth to 1 foot. bam! 10 incher to the bank, but that was it for about 15 minutes, but the little sprays of water were all over the lake now, so i changed again to 6 inches, and bam!!!!! 10 incher to the bank. i had kim change up too. it was on now! 1 after another from 8 to 12 inches. it was a blast. i have never caught crappie 6 inches deep. awesome day. we had to leave about 2:30 to get home for wyatt on the bus, but before we left i watched a little bit. there was a small bug popping up out of the water and drifting on surface for short distances in the wind. if we would have been trout fishing i would have switched to a dry. may have to carry fly rod with me if we go there again. sorry picture only shows a few, i had already started filleting when kim came out with the camera. ended the day with 1 dozen keepers. best day out yet for crappie. it will only get better. dinners on got to go...fish sandwiches......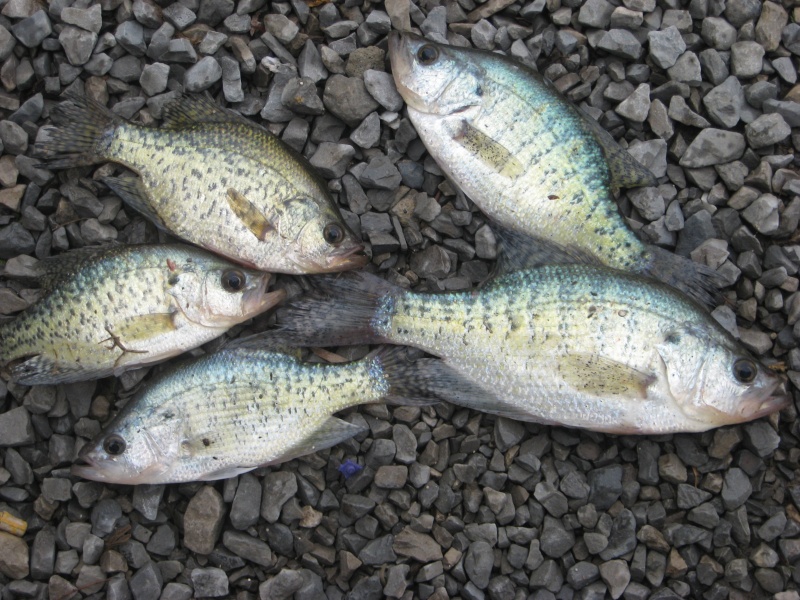 released a bunch of 6 and 7 inchers.

bugeyedjig

Outdoorsman 5






AWESOME!!!
Ya just never know about those picky cappie, they do pop the top like that, rep point for being able to adapt to the fish
:featured:
_________________
CYA On The Water,
Jonny
"Fishing and Fun"

OhioFisher

Administrator






Nice day of fishing! I need to go after those crappie one of these day. I know a couple years ago 4 of us got into em big time at dow lake it was a blast. I'm usually all about the bass though so gotta find time to fit in crappie lol anyway congrats on the nice catch.

kmjschulz

Outdoorsman 2






great catch again, enjoy the fish dinner

saugeye1

Administrator






are 3 of those white crappie?

BrendanK

Outdoorsman 1






we are pretty sure they are. the color bands are pretty much straight which would make them white crappies. black crappies have their spots scattered

bugeyedjig

Outdoorsman 5








Similar topics
---
Permissions in this forum:
You
cannot
reply to topics in this forum