:AM I THE ONLY ONE WITH PHOTOBUCKET TROUBLES?::Look at
http://ohiooutdoors.org
and if "We're doing a little work right now" comes up on your computer please let me know, because I can even log onto photobucket, it won't let me!
Well the last couple days have been pretty crowded for sure! The first picture is from friday, the water was pretty high but not terrible and really muddy, the second is from Saturday as you can see the whole river was packed but it came down and cleared up leaving for good fishing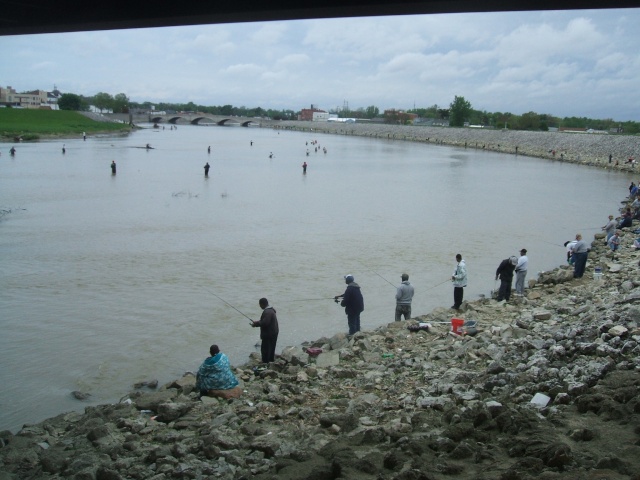 Didn't even take the waders because it was so nice out! Although the river wasn't the prettiest and the bank was pretty crowded we found a spot. After four casts I had my first fish on and it was steady after that. As always I was recognized by someone from previous fishing, most people down there know my Dad and I because we give fish away

Anyways there was a small boy around and he was sleepin at first but when he woke it wasn't long till he was bored... So we started to let him reel fish in and he had a great time. Pretty fun hearing "yep thats a big one" "Grama I catch big white bass" "yep I got him" after my flashbacks lol I still caught fish. Got a couple nice females running up also, this one was pretty nice at 15in.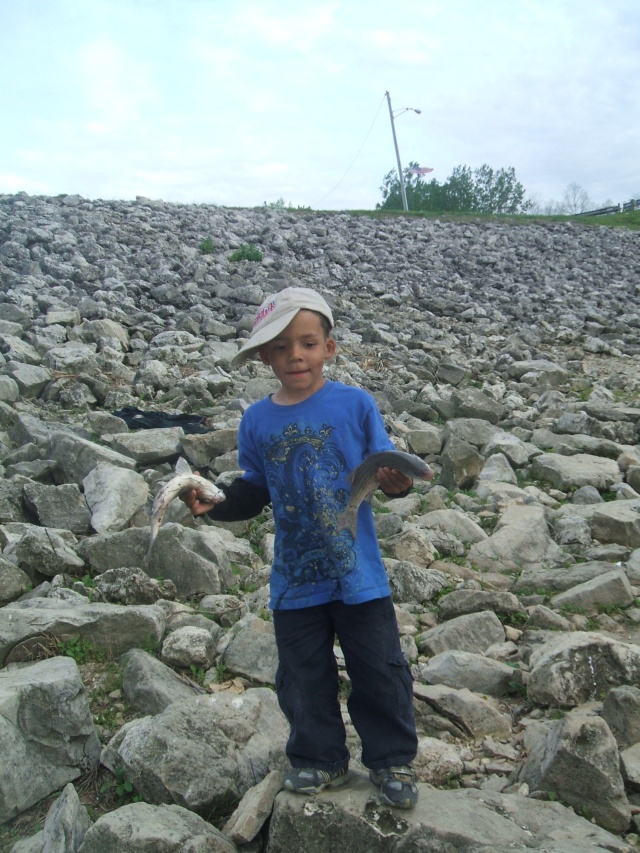 Towards the evening it seemed to slow down... Still snagging all kinds of fish though, millions of shad, buffalo, snagged some whites too! We were using a 1/8 and 1/16 tandem jig rig one white one chart and doing better than anyone we saw!
Today the fishing was ten times better! Big females were in, the water was at a better level, and the clrity was a Day N Nite cahnge from the day beofer lol ok maybe 3 inches isn't that much to get excited about... Today white seemed to be best and all holes were producing! The bank was lined with people until the rain showers were passing through. We found a steady hole and stuck with it.
I always release my females and today I put beack over 50, this is the peak for sure... It was a good while before I decided to keep some then Dad did and inbetween 11 and two we had around 50-75 males and quite a few dropped on the putting them on the stringers. We got quite a few doubles today too which is always fun- I got 2 whitebass/buffalo/1 shad/whitebass/and one whitebass whitebass!!! the udder fish are in there thick too!! The south wind today though blew a lot of water out and the fishing is going downhill as I type this... Possibly try tomorrow got plenty of fish for the frezzer now!!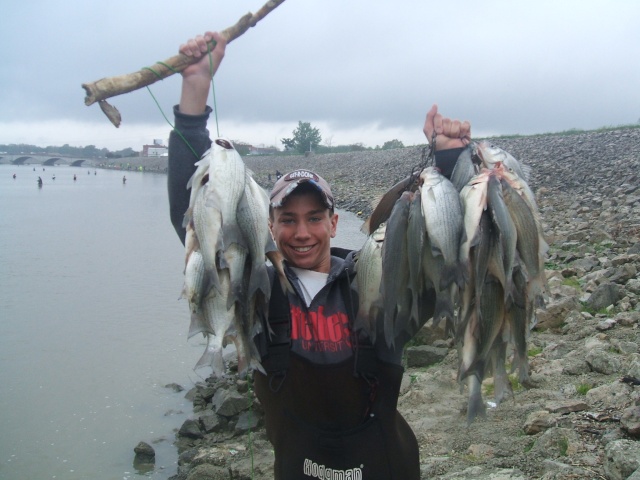 _________________
CYA On The Water,
Jonny
"Fishing and Fun"

OhioFisher

Administrator






great pics again, way to go with the little guy

saugeye1

Administrator








Similar topics
---
Permissions in this forum:
You
cannot
reply to topics in this forum